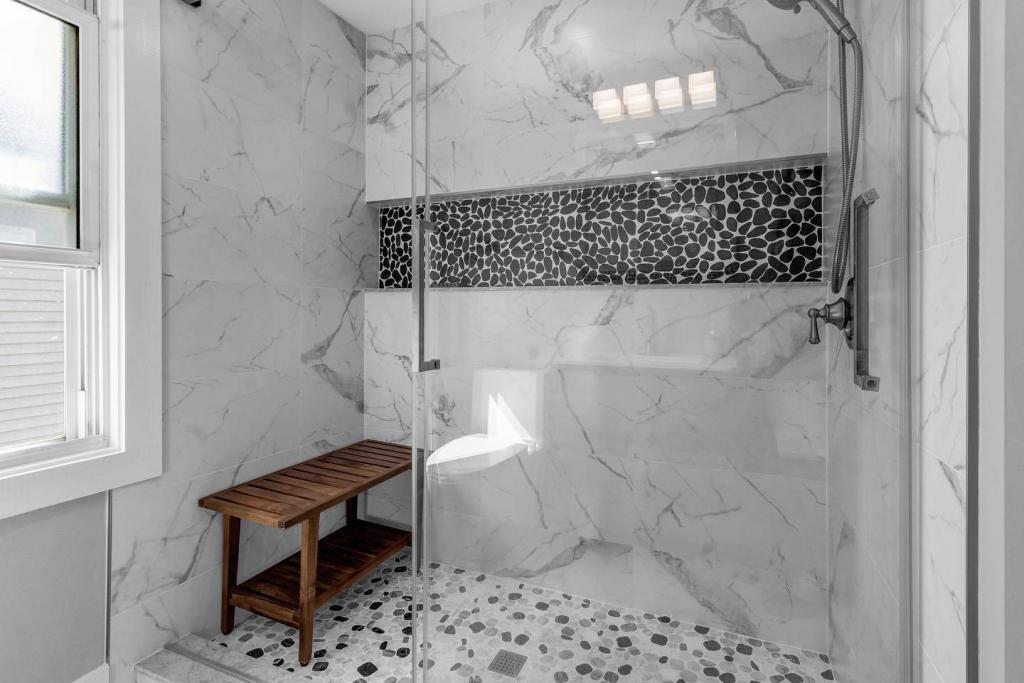 8 Considerations for an Awesome Standing Shower Remodel
A standing shower remodel has the power to completely transform your bathroom space. So if you are looking for important considerations for an awesome standing shower remodel, you are in the right place.
In this article, we are going to start right out the gate with the uncomfortable truth about the most important part of your standing shower remodel. Then, we will consider space, style, accessibility, and cost, and explore why we think the walk-in standing shower has been making a major splash in home remodeling trends.
1. The Most Important Part of Your Standing Shower Remodel – Good Waterproofing
If you notice that the corners of your tub are moldy and full of mildew, this is going to resonate with you. The materials in your bathroom are trapping water. When water pools due to improper drywall, framing, waterproofing, etc., coupled with poor ventilation, this creates a hotbed for mold and mildew to grow!
By far, the most important part of your standing shower remodel is getting the waterproofing right. If you have been using a stand-alone tub, or are converting from a tub/shower to a walk-in shower, make sure you hire a contractor that is knowledgeable about installing a great waterproofing system, like wedi. This is what we use at TBrothers Renovations.
Your standing shower remodel should be build right, from the foundation up. Use materials that are specially made for bathrooms. A waterproofing membrane or system should lay underneath your surface materials, keeping water from pooling or hitting other materials that absorb moisture. Read more about our bathroom remodel process here:
2. Small Bathroom Love – Creating an Illusion of Space in Your Tiny Bathroom
Small bathrooms often feel cluttered and hard to navigate. If you have a small bathroom and want to make it appear bigger, removing the tub in favor of a walk-in standing shower remodel could do the trick.
A clear shower door or doorless walk-in shower makes the room feel instantly brighter and bigger. You are also opening up several feet of open walking space. One great idea is to extend the same tile you are using on your bathroom floor into the shower floor, for a seamless design.
Not only does the open layout of a standing shower remodel feel more spacious, but it is also an interesting design element that takes the focus off the size of your bathroom. Instead, you will be thinking of the feel-good experience of enjoying your surroundings. Finish the bathroom redesign with other carefully-planned details that attract your eye and add personality. But we recommend keeping your color scheme simple, to avoid over-cluttering the space.
3. Big Bathroom Love – Walk-In Shower Heaven
On the other hand, if you have a generously sized master bathroom, a large standing shower remodel lends the same luxurious feel of a walk-in closet.
If there is room for a tub, keep both! Keeping a walk-in shower separate from a jacuzzi tub or other tub means you can choose the bathing option that suits your preference on a given day. Couples can share intimacy while one showers and the other bathes. Also, keeping a tub helps you retain resale value. Having a tub is essential to considering your room a full bath.
It is less important to keep secondary bathrooms as full baths with tubs. Having more than one bathtub in the home is not usually necessary. But many realtors will recommend that you keep at least one full bath in your home if you plan on reselling.
Selecting the Style of Your Standing Shower Remodel
A standing shower remodel can easily become the center of attention of your new bathroom. Let's pick the style that is right for you.
4. Tub or no tub
Keeping or removing a tub is mainly about functionality for your family and guests. Will you be bathing small children or grandchildren? You may want to keep a tub.
Also, keep in mind resale value. If your bathroom has a sink, toilet, and just a shower but no tub, it will be considered a ¾ bath rather than a full bath. This does play a part in resell-ability, but part of this is personal preference. An increasing number of buyers may want more showers than bathtubs, and a standing shower remodel can signal that the home is updated and well-taken care of.
5. Door or no door
No shower door means one less surface to clean hard water stains off of. It maximizes space. It is one less moving part to handle for someone who is elderly or who has mobility concerns. It also unites the floor of your bathroom to the floor of the shower, which helps the bathroom makeover look cohesive and intentional.
However, be aware of some drawbacks. No enclosure can mean less privacy and a more drafty shower! Consider whether this is a room that guests will use and how they will feel most comfortable. It is possible to have a partial partition without a full door enclosure.
6. Curb or no curb
Believe it or not, your standing shower remodel does not need to include a curb to keep water in! Instead, your bathroom contractor can gently slope the floor for proper drainage. An enclosed area such as a door or glass partition can also help keep water contained.
7. Accessibility-Friendly Shower Remodel
Walk-in showers are not only on-trend. The low profile of a walk-in standing shower remodel makes it a top choice for seniors and for other homeowners concerned about accessibility.
The Americans with Disabilities Act (ADA) recommends a walk-in shower size of 36" x 36," or at least 30" x 60" to accommodate a roll-in shower chair. They also suggest a seat should be attached to the wall, to sit or occasionally rest for balance. Installing a built-in bench can help keep the walk-in shower usable as a homeowner ages, recovers from surgery, or has changing needs.
8. Cost of Your Standing Shower Remodel
The cost of your standing shower remodel can differ significantly, based on the size of the space and materials used. The biggest expense would be created if you need to change the layout of the room by moving plumbing, walls, and other fixtures. The next biggest expense is created by glass doors and panels.
If you are making a switch from a tub to a walk-in standing shower remodel, you will likely need to demolish and dispose of the old tub, reframe the wall and add moisture-resistant wallboard, set in place the new shower pan and drainage, install tile and fixtures, and add any glass enclosures or doors.
You should expect that a typical bathroom remodel with a standing shower can run anywhere from $10k-$30k. A luxury bathroom remodel could be an investment of $25k-$60k.
If cost is a concern, ask your bathroom contractor whether you can keep the layout of the room largely the same and use prefabricated materials to build your new shower. You can also reduce cost by using less glass. Do not skimp on waterproofing, and if you are building a custom shower, hiring a pro is a must.
Read More: The Typical Cost of a Bathroom Remodel – What You Need to Know
Contact TBrothers Renovations
If you are in the Buffalo, NY area looking to complete your own standing shower remodel, head to our contact page and get on our schedule for an in-home estimate. We would love to create your walk-in shower conversion, bathroom addition, or any other shower or bath remodel. Check out our bathroom renovations page to see more photos of work we have done at other homes in WNY.
TBrothers Renovations can save you lots of headaches through the process and make your home, kitchen, and bath remodeling experience fun, easy, and exciting. We hope to be the best home renovation contractor you have ever had!