Solutions for Bright Kitchen Designs
Bright kitchen designs are in, and we hope they are here to stay. If you are planning a kitchen remodel soon and are looking for ideas related to bright kitchen designs, read on. We have compiled a list, from big impactful changes to budget-saving tips.
6 Better Lighting Tips for Bright Kitchen Designs
1. Flood the kitchen with natural light – There is no denying that as a first choice, we would pick natural lighting for bright kitchen designs any day. While you are kitchen remodeling, if you can install bigger windows or even a large sliding door, you'll feel a difference in your kitchen as clear as going from night to daylight.
2. Add mirrors to bounce light – If you don't have a budget to add window space, make the most of the natural light you do have. Hanging a mirror or two will bounce light around and amplify it. It can also add definite class to your kitchen redesign.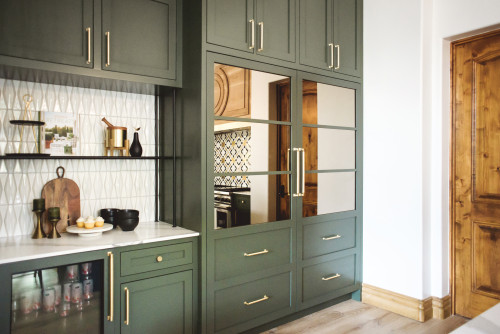 3. Install ambient lights – Older kitchens are dotted with old-fashioned chandeliers and pendant lights. But these kinds of fixtures don't spread light around evenly. Ambient lights recessed into your ceiling provide a wash of light across wider portions of the kitchen.
4. Layer lights in different areas for distinct functions – Use a combination of lights in your kitchen: 1) Ambient lights should be installed overhead, either flush or semi-flush to the ceiling, for a soft bright light over the whole kitchen. 2) Pendant lights are good for key task areas. 3) Accent lights, such as those under your upper cabinets, are gentle ways to increase visibility while working.
5. Change out your light bulbs – It is possible your lights are working agaisnt you. Any kitchen remodel should include an assessment of what output your lightbulbs are giving you. 80 to 100 watts is a good minimum for your kitchen bulbs.
6. Avoid cool white lights – In many cases, cool white lighting will make your kitchen feel clinical and unfriendly. A 3000-Kelvin bulb is a light temperature that will usually feel welcoming in a kitchen setting.
3 Ideas for Using Paint to Achieve Bright Kitchen Designs
1. Paint over dark kitchen cabinets –Darker reds and wood tones can feel heavy. Looking for brighter colors to paint your kitchen cabinets? Improovy has compiled this list of trending colors in 2022: 11 Best Kitchen Cabinet Paint Colors of 2022
2. Paint the ceiling and walls the same color – One way to add a sense of brightness is to focus more on adding a sense of space. Painting the ceiling and walls the same color blurs the lines that divide the room and makes it feel bigger. Real estate pros recommend these three top colors for kitchens: greige, white, and light green.
3. White kitchens reign supreme – We are big fans of bright white kitchens, but we know they can be hard to pull off. Check out our other article: 3 Secrets of White Kitchen Renovation Ideas that Work.
2 Dramatic Bright Kitchen Designs: Let More Light In via the Ceiling
1. Add ceiling height – Perhaps the most dramatic of all bright kitchen ideas is to add ceiling height to an old 8-foot-tall room. This makes sense if you have a ranch home and have space in the attic. A tray ceiling (bumping up an inner area of the ceiling) or vaulted ceiling (removing the dropped ceiling and framing the attic) are other options for opening up a low ceiling.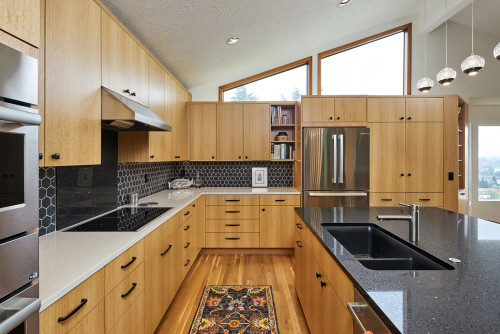 2. Install kitchen skylights – Kitchen skylights are one kitchen makeover item that will have a definite impact on your mood, from the time you wake up and sit down to breakfast. They are more efficient than wall windows at flooding light through the room and add definite character that lightbulbs don't.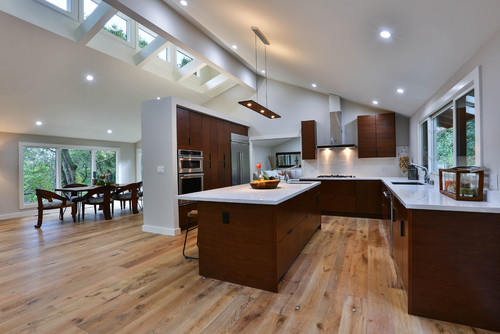 Case Study – Bright Kitchen Designs for a Stunning Buffalo Kitchen Remodel
Poor lighting, a low ceiling, and a black tile floor gave this Western NY kitchen a cramped and gloomy feel. The client came to us looking for some bright kitchen ideas for fixing the unflattering lighting and creating a more contemporary, open kitchen.
First, we added height to the ceiling and bumped out the back wall to give the kitchen space to breath. Then we installed floor-to-ceiling windows, swapped out the floor for a blonde wood, and improved the overhead lighting. What a difference!
It is no surprise that the dramatic bold blue kitchen cabinets steal the show in this kitchen makeover. But brilliant all-white walls are the backdrop for color joy. The white oven, white-gray countertops, and white-gray marble leaf backsplash give this kitchen renovation a cohesive, bright, and chic feel.
TBrothers Renovations for Bright Kitchen Designs in WNY
If you need a new kitchen remodel in Buffalo or Western NY, and you are looking for bright kitchen designs, check out our Kitchen Renovations page for inspiration. Then get in contact with TBrothers Renovations to book a slot in our schedule for an estimate!
We will take you from start to finish – from the initial kitchen design to 'bon appétit!' We would love to be the best kitchen contractor you have ever had.