The 4-Step Process to Great Home Renovation in Buffalo NY with TBrothers
TBrothers is a high-quality contractor for residential kitchen, bath, and home renovation in Buffalo NY. We are more than just "handymen". We're artisans who understand how to mix style with functionality.
One of the reasons for this is that we have a 4-step process that makes every home renovation in Buffalo NY we complete a stunning success. We prioritize: 1) planning around your lifestyle, 2) gorgeous design, 3) building the right way the first time, and 4) protecting what you love while we remodel.
1) Start Your Home Remodel by Planning Around Your Lifestyle
The best kitchen, bathroom, or home renovation in Buffalo NY starts with getting to know you and your routine.
Your preferences for the design and flow of your kitchen, bathroom, or other remodeled space will ultimately be based on how you and your family use the room, so it's important to get your input into what functionality the space will have. For example:
Planning a Kitchen Remodel in Buffalo NY
Do you want to entertain large groups of 10 or more?
Do you want a cozy space that's just perfect for two people to cook and enjoy romantic candlelit dinners?
Does a brood of hungry teenagers consistently ravage your too-few cabinets for sustenance?
As everyone's favorite room in the house, your kitchen will be the setting for years of memories — whether holiday feasts, cozy get-togethers with friends, or a romantic evening with someone special. Your family and loved ones will enjoy the room for many years to come, and it's up to us to help you create a special environment for everyone to get together, relax, and savor the moment.
Planning a Bathroom Remodel in Buffalo NY
Are you going to have high traffic through your bathroom? Or is this a private master bath that could use romantic touches?
Are you planning a bathroom remodel that is kid-friendly? Let's consider durable materials and just-right heights. But we will keep in mind that those kids will grow fast!
Need extra vanity space, because you're tired of sharing a countertop with your significant other's products? (We're looking at you too guys. Beard products take up room.)
Whatever vision you have, we've got you covered for any home renovation in Buffalo NY. Because we take the time to get to know you, your family, and your routine, allowing for whatever additional functions your kitchen, bathroom, or other home space serves.
Get a Digital Mockup of Your Remodeled Kitchen or Bathroom
We'll even create a digital mockup of what the remodeled space will look like when completed. If there's something you don't like, we'll be happy to discuss what changes can be made to suit your tastes. The best part is, you will be able to see the concept, the entire idea, before any work is completed.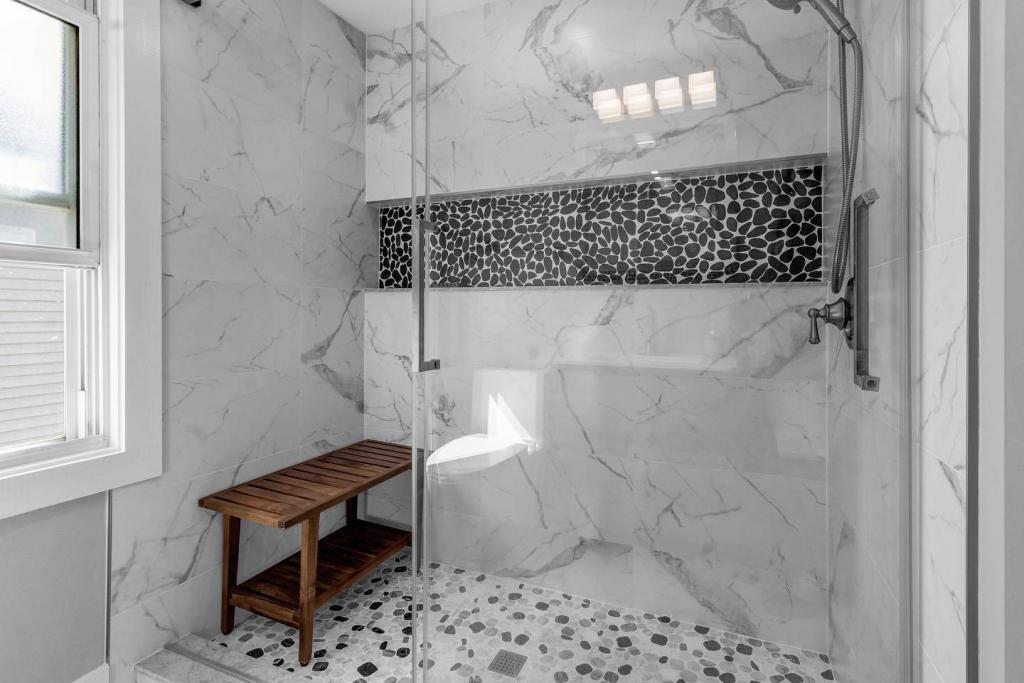 2) Don't Skimp on Gorgeous Design
After an initial consultation to understand your vision for the best kitchen, bathroom, or renovation to suit your needs, we begin by picking colors and styles for tile, flooring, and paint to bring your vision to life. 
Design In-House or Bring Your Own Designer
TBrothers is a design and build home renovations contractor in Buffalo NY. For that reason, you do not need to hire an outside designer or architect. We can help you with the entire project from A to Z. But if you want to bring on an outside designer, we will be happy to work with them. If you already have plans from an architect, bring them with you to your consultation!
You'll have absolute control over the final outcome of the remodeling project. But if you need a professional opinion or suggestions to bring the design together for a perfect home remodel, that is what we are here for. We can start with the ideas you have for what you want, look at possible materials in our own show room, and even go shopping together at other stores.
How to Achieve a Design You Love During Your Kitchen or Bathroom Remodel
Beyond adding to the resale value of your home, a home renovation in Buffalo NY should create a mood or feel you want for your home. Whether you are seeking tranquility, beauty, or whimsy, we are your experts for home renovations in Buffalo NY. We at TBrothers can help you find the perfect design to improve your space.
3) Build the Right Way the First Time
Some bathroom remodel contractors are "handymen," who start a job, do it halfway, and leave a mess behind for you to clean up. If they do the job haphazardly, they may damage expensive materials, take much longer than planned, and even do serious damage to your home's systems or structure. You may need to hire a SECOND contractor to complete the job, hassle the contractor to continue working if they skip out on you, and/or file legal claims!
Here are some nightmare stories we hope never happen to you!
Nothing could be more frustrating! Your home is your castle, and you have likely spent a good deal of your savings on your home remodel. It is incredibly important to have a contractor team that will be on the same page as you and will build with the highest standards.
The TBrothers Difference – Quality Home Renovation in Buffalo NY… Always!
At TBrothers, we make sure that our clients are comfortable with us, with our work, and with the kitchen or bath makeover they've always wanted. We are high-quality professionals who make you feel heard. And we diligently work to bring your vision of the best kitchen or bathroom makeover or other home renovation in Buffalo NY to life. You can feel comfortable with us being in your home and around your kids. We discuss the space that will make your home better designed to suit your needs.
We think these reviews illustrate the TBrothers difference: